with hopes that Mistress J soon would be there!
Some men have a really strong stocking/antyhose fetish. So strong that the sight and feeling of silky stockings send them straight into subspace. This post is for the guys who like stockings.
My favorite thing to do to a fetishist is to torment and tease them by rubbing my feet all over them,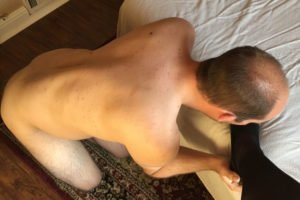 in the back and the front. I have also used my stockings for bondage and gags when necessary.
This happened recently:
First, my slut strips down to his proper uniform and, naked, shows his appreciation for the honor of worshiping my feet. He plants a kiss on my shoe, then gently slides them
off. I always require a massage, and when I feel ready, I proceed with the teasing.
My silky feet caress his naked body leaving no area untouched. I feel his excitement grow, and use it to my advantage. I have very talented toes. They like to grab things.
I have him rub his cock with my black-clad tootsies. I tell him to fuck my feet. He obeys…
He is then forced to lick my feet after they have been all over his cock. I hope he can taste his pre-cum and smell his balls.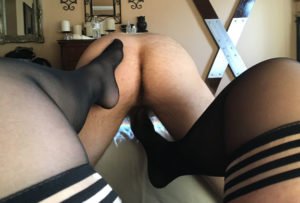 I bend him over and my horny feet run over his butt. I poke his butt hole with my toe. He likes it.
I kneel on the couch and with a nice view of my ass, he is forced to fuck my feet again. He is close to edging. He must beg to be allowed to cum.
The slut gets turned over again. I am going to make this man cum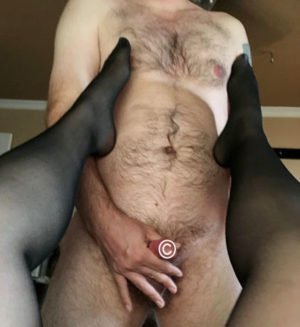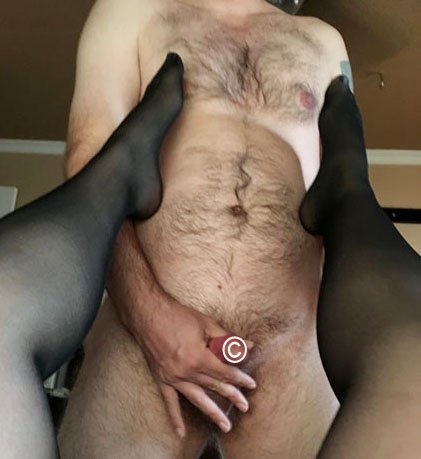 on my stockings. He's told to stand up and as I caress his nipples he masturbates. I tell him to get close to the edge. Now he's close. So i rum his man parts with my stockinged feet. He's in heaven now and explodes. I feel his warm gooey cum through the fabric of my stocking. I then have him peel off the soiled items and wipe my legs.
Now go home.
If you have a stocking fetish and are curious about my style of Feminine Domination, I invite you to contact me for a session in my San Jose studio.
Intrigued? Contact me.
Mistress J Studios is a sex positive studio that provides a safe place for personal expression. Nude male photography, male and female submission, cross dressing and gender bending are welcomed and encouraged here.
My email is mistressjstudios@gmail.com. I am in San Jose, California. I look forward to hearing from you.