Allen* came over one sunny afternoon. He is a long time client here at Mistress J's. Lately he has been craving some serious humiliation, degradation and even a little pain. What's funny about Allen is he started off here as a sensual massage client. Now he is a hard-core pervy pain slut and I am constantly thinking of fun new ways in which to torture his ass. (among other things)
Allen was ordered to strip and wait for me in the dungeon. I was excited to use my three new ceiling hooks that Ryan hung when he lost that bet. I also had a few other surprises in store for him.
I know he is as fond of receiving CBT as I am of giving it. I have a few fun penis devices, but the problem is, Allen's balls are rather large. It makes it difficult for me to wrap such devices around them so modifications are usually made. I knew he'd enjoy my spiky cock parachute, but also knew he wouldn't be able to wear it the traditional way, wrapped around his balls and hanging downward. Instead, I wrapped it around his large cock and he had the thrill of experiencing a hundred little cat claws digging into his manhood!
I added a weight to the parachute so he could feel a nice swing when he moved. I took a chain and secured it to the wall. Poor Allen had to endure the entire session standing up, but that was by design, I wanted access to all the good parts.
I went about blindfolding and restraining him to the ceiling with cuffs and chains. Mistress J is really digging the new hooks. I took out my trusty anal hook, wrapped a rubber around it and lubed it up. I slowly inserted it into Allen's butt. His growing excitement was evident despite wearing a tight, prickly parachute on his ding-dong.
Feeling owned and controlled, Allen hung his head and leaned on the long dangling chains for support. He had no choice but to submit. I took out my electric gloves and ran them all over his body, administering sweet shocks in the most private of places. At times, I spanked his firm little arse with my favorite paddle. He let out grateful yelps.
Poor Allen. This man comes here on his lunch hour to be treated like a dirty rag. How dare Mistress J do this to him?!?
Well, I aim to please.
This man had a bit more "treatment" to endure. I took my little footstool and sat down. I lubed up my new anal speculum and switched the hook for the speculum because someone needed to be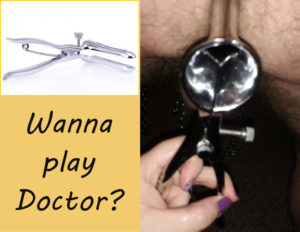 stretched for something bigger.
The metal was a little cold, and Allen let out a shiver as it slid into his behind. I took my time and slid it in and out several times before opening it up. Allen sighed with pleasure as the speculum gently pried open his anus. I secured the latch and let him enjoy the feeling of the pressure the instrument gave to his inner butt hole. I enjoyed this part of the session. Not many men get to feel the enjoyment of a speculum, at least not as often as women. I felt like a doctor indeed and wished I had a white lab coat.
Feeling he was ready for the last part of my evil plans, I took out my harness and gave Allen what he came for; hard, forceful pegging! I took a photo of me riding his ass, which I did for 20 minutes. Do you feel sorry for him? I don't. This man was getting what he deserved, and more!
So, Allen endured what I gave him, and when it was over, quickly devoured a bottle of water. He took a shower and came downstairs on shaky legs.
"That was a quick hour Mistress, thank you." he said as he took leave of me.
I know he will be back soon.
Intrigued? Contact me.
If you are curious about my style of Feminine Domination, I invite you to contact me for a session in my San Jose studio.
Mistress J Studios is a sex positive studio that provides a safe place for personal expression. Nude male photography, male and female submission, cross dressing and gender bending are welcomed and encouraged here.
My email is mistressjstudios@gmail.com. I am in San Jose, California. I look forward to hearing from you.
408-896-5836.
*Name changed to protect the innocent.
**From Nick Jonas "Chains".