Tiffany keeps coming back. This East Coast slut always visits me when she's in town on business.
I met her at her hotel on Friday evening to dress her for our shopping trip. I had purchased little red pegging panties for her and I was very excited to see them on her. I had a remote controlled vibrating butt plug, a chastity cage, and a shopping list!
After saying our hellos, I bent her over the bed and lubed her up, gave her a quick warm-up and slid in the butt plug. She said it was VERY full. I shoved her boy clit into the chastity cage, and we went back to the Hustler Store. For some reason, Tiffany was walking funny in the hallway. Was it because her junk was imprisoned and she had a large bulb in her butt? I don't know. I do know, she opted to take the stairs rather than the elevator, so it must have felt good!
We shopped at Tiffany's favorite store where she bought a few outfits and a hood to make videos. I intermittently turned the butt plug on and off, and she was enjoying our game.
I sent her home with some tasks to complete before our 10:30 am appointment Saturday morning. The tasks were to record herself doing the following things:
1. Tiffany, you are instructed to give a lesson on anal training.
Make sure your red panties get some screen time.
Use white board to prepare an outline/and or diagrams or tips. Erase board when necessary.
Use rubbers on dildos
Grading will be on ability to convey an idea.
2. Demonstrate how you can ride a dildo Play "Mustang Sally" as you gyrate on the dildo. Sing along during the chorus. Grading will be on vocal talent and riding ability.
3. At 11 pm, record yourself writing 50 times "I'm a big whore and like to choke on cocks." Grading is on neatness, legibility, uniform writing and overall presentation. Provide a shot of the clock.
4. At midnight, record yourself inserting ice cubes in ass. Provide a shot of the clock. Extra points will be given if you can insert more than 10.
5. In the morning record yourself putting on your dainty things under your street clothes. Take a shower with provided feminine smelling soap. Use soap all weekend. Have breakfast downstairs or outside with lingerie on under clothes.
6. Sleep in chastity. Arrive with butt plug in place.
7. Wear pegging panties under street clothes all weekend, and fly home in them.
Grading:
Anal stuff: Tiffany did a great job explaining the anal training and riding the dildo. I personally felt she didn't sing loud enough during the chorus of Mustang Sally, so points were deducted. Also, she was a little off key…
Ice cubes: Major points were deducted because she was unable to insert ice cubes in her ass. She said the shape wasn't conducive to sliding in, or some baloney like that. A backup activity of an oral sex demonstration on a dildo was provided, and I must say, she did a good job with that and provided interesting camera angles.
Sentences: Tiffany did a great job writing her 50 sentences. This time, a blank paper was provided so she did not have the benefit of the lines. I feel her penmanship is fantastic. I did not deduct for all capital letters, because her writing is so easy to read. I love how uniform each sentence is, and how they practically line up down the whole page. Points were deducted however. She complained a little by saying 50 sentences is a lot… Wait until next time Tiff.
On Saturday, Tiffany arrived on time. We watched and critiqued her videos downstairs, then went up to the playroom for the fun.
Since she wrote about sucking cocks, I wanted to see her cock sucking/chocking skills in action. She complied readily. Her greedy mouth satisfied my two spring colored cocks and gave very sloppy and noisy blow jobs.
Spring is my favorite season and Easter had just passed. I used to love going to my neighborhood Easter Egg hunt as a kid. Tiffany made a cute bunny, don't you think? She hopped around the playroom as I hummed the Bunny Hop Song. Her basket was filled with Tenga eggs and since she was a good girl, she got to take one home.
Tiffany is a bondage and anal slut. So, up went the legs! I have hooks all over my playroom, so her legs were pried open with a spreader bar and attached to the ceiling, while her arms were above her head. I teased her boy pussy and enjoyed using my ice roller on her delicate parts. Cock slapping, vibrator torture, more cock sucking & toe sucking occurred.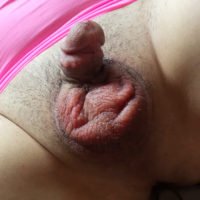 Finally, the chastity device came off! Poor Tiffany's boy clit was in shock after being caged up for a night and morning. Despite it's shriveled appearance, I was able to edge her several times.
Tiff had saved her cum for a week in anticipation of our meeting. Needless to say, she was VERY sensitive and called out "edge" very early during the game. I used both my hands and my feet to edge her.
Finally, Tiffany was allowed her release. But into a condom. And she had to suck her juice out. Poor girl. Such a humiliating morning. I felt sorry for her, for 10 seconds.
But Tiffany is a trooper. She went up to San Francisco that night for more play. What can I say, girls really do just want to have fun.
Intrigued? Contact me.
Mistress J Studios is a sex positive studio that provides a safe place for personal expression. Nude male photography, male and female submission, cross dressing and gender exploration are welcomed and encouraged here.
My email is mistressjstudios@gmail.com. I am in San Jose, California. I look forward to hearing from you.