The internet's favorite slut keeps cuming back for more! Shortly before Memorial Day Weekend, slut Tiffany booked back to back sessions one week apart. Her fans gleefully posted suggestions and even a few bets were made on her abilities.
I met her at her motel the night before our daytime session. Our girl likes to go shopping at the Hustler store. I think looking at the toys gets her horny. She was given her usual list of tasks, but Mistress J had a shocking surprise.
I had purchased a puppy shock collar, and I was excited to try it. Tiffany kept texting and asking for hints, I
had to punish her for being a pest. I had tested it out earlier that day with a previous client, and was all ready for my meeting with Tiff.
I placed the device so the electrodes were nestled on her pussy lips (balls), her panties were snug enough to keep it in place.
Here is the funny part; I was trying to give her a zap and it wasn't working. It worked earlier, what was wrong? I kept toying with the remote but nothing happened. I dialed up the intensity from 1, to 9 (out of 15) then hit the button. Bingo! Poor Tiffany doubled over and said "It's working now." So off we went.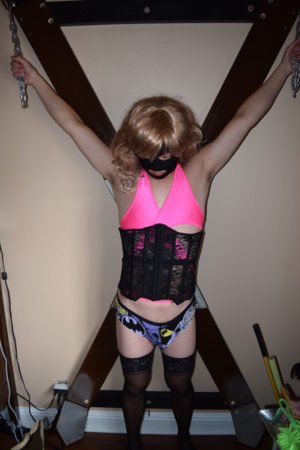 The poor girl was rattled from her intense zap and kept giving me the side eye. I hid the remote in my hand as we shopped for dildos and undies. She was instructed to ask questions about very large dongs and during the consult, I'd zap her. Suddenly her voice would get higher and she'd twitch. I wonder what the sales gal thought?
Tiffany's Homework:
I always leave her a few homework assignments. I left her at her room with instructions to cum into a plastic bag and freeze it and bring it the next
day. She also slept with a tampon in her butt.
Tiffany always has do demonstrate her writing abilities. I had her write 25 sentences about being a big cum whore, but she had to use the small hotel notepad. The 4×5 notepad was full of her beautiful and organized writing.
Tiffany always needs to record some dance moves. What do you all think of this shot taken from her video?
In addition to the above assignments, our girl had to demonstrate ass play and do a striptease. It had been a long work week for her, but I made the slut stay up until 2 am recording the assignments and showing proof with the clock.
Bright eyed and bushy tailed, slut come over the next day wearing her lingerie and some very strong perfume. I placed her cum bag in the freezer and we adjourned to the playroom.
I had purchased ice tube trays for anal ice insertions. Bets were wagered with a high of 4 tubes going into her boy pussy. Tiffany could barely take 3 tubes! And this was after stretching her out… I think the cold ice made her clench. For some reason, the tubes kept shooting out of her butt. What a silly girl!
The following week brought the slut back for a morning session. I dressed her up in some cute clothes and again positioned the puppy collar, this time strapping it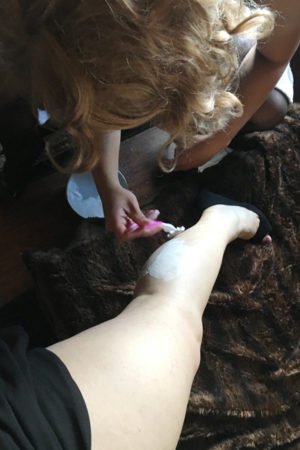 to her thigh. She cleaned my kitchen and received zaps for wasting water and not wiping the counter.
Tiffany was then instructed to suck all the cocks in the glory hole. She had to pleasure each one according to it's individual taste. One cock enjoys just the tip, while another likes deep throat. If she did it wrong, or lacked enthusiasm, she got a zap! I just thought of a fun game while writing this. Can't wait to try it out.
Tiffany also had to demonstrate her fine skills by shaving my legs.
The pressure was on. Could Tiffany give me a clean shave without any nicks? Could she manage not to spill the water? Would she waste shave gel? Would she get a zap on a very high level if she did any of these transgressions? Inquiring minds want to know…
After a gentle ass fucking, Tiffany received her reward. She was granted the opportunity to consume her frozen spunk from the previous week!
With her hands tied behind her back, the slut knelt down and licked her love juice out of the bag like a little dog. If she didn't swallow every drop, you guessed it, she got a zap!
We ended our session with a sweet treat: a banana enema. Tiffany is a bit health conscious, and likes to be regular. I had a very ripe banana smashed into a jumbo food syringe. laying on her back with her legs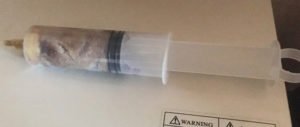 resting on my shoulders. I slid it into her. She was stroking herself. The thought of her fruit based bounty was too much for her and she exploded all over herself! She barley had time for cleanup before nature called her to the bathroom! What a dirty whore, inside and out.
Intrigued? Contact me.
Mistress J Studios is a sex positive studio that provides a safe place for personal expression. Nude male photography, male and female submission, cross dressing and gender exploration are welcomed and encouraged here.
My email is mistressjstudios@gmail.com. I am in San Jose, California. I look forward to hearing from you.