I have said this before, and I will say it again, I get pleasure out of pleasing my guests.
Many men delight in serving women. I like those men.
So, if my guests want to serve me, who am I to deny them their pleasure? If someone wants to honor me with service and chores as part of a session, I often will let them. Of course, it depends on my mood and what needs to be done.
Serving refreshments is always welcome. After all, being Mistress J is hard work, and sometimes I get parched.
I like afternoon tea, and I like men in panties. What better way to enjoy the afternoon than to have a man in panties serve me tea! Talk about killing two birds with one stone!
Perhaps a sissy wants to lavish attention on Miss J? She's too kind to refuse.
Other times, the man in question wants to be my furniture! I like a nice, strong back to put things on. Just be careful, if you move while I am pouring, you might get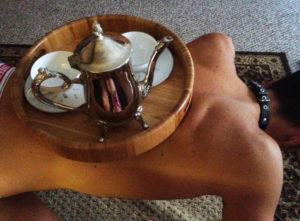 scalded. This has happened before…
I recently had a guest who wanted the session to be about my amusement. I always have fun with him, and this time I decided to put him to good use.
I can't stress enough the importance of staying hydrated. That's why I always have water for us during our sessions. Here, Allen* displays his dexterity while making sure Mistress has water. He held his position for a long time, catching himself if he lost his balance. He didn't spill a drop, and the water was quite refreshing! He was tethered to the wall by a very unique anchor point. I didn't want him to get away!
I'm always thinking up new things for the playroom, and the house itself. I can only ask my dad to do so much, besides, I'd rather have someone I'm not related to do work around the house.
I recently had my cross re-sanded and stained by jepguy. He was very anxious to please. He has served me before, so he knew the drill. He stripped down to his uniform and I inserted a butt plug. He then went to work making the cross look pretty.
Jepguy has done some light handiwork for me in the past, but his most notable act of service was being the naked waiter at a
dinner party I had for my FemmeDomme friends. He did a nice job serving and clearing the table, all the while in his special uniform. I was impressed, as he kept his thingy under control. There was no dripping on the floor. Such a good boy!
Not everyone has to provide service in the house. A special friend from Texas made me a mess of home made BBQ ribs and chicken! He found out I love BBQ, and got up super early to smoke the meat. It was still warm when he arrived.
So, no matter how you serve your mistress, one thing is certain. You will serve with a smile, and most likely be naked!
If you are inclined to service and are curious about my style of Feminine Domination, I invite you to contact me for a session in my San Jose studio.
Intrigued? Contact me.
Mistress J Studios is a sex positive studio that provides a safe place for personal expression. Nude male photography, male and female submission, cross dressing and gender bending are welcomed and encouraged here.
My email is mistressjstudios@gmail.com. I am in San Jose, California. I look forward to hearing from you.
*not his real name.