Mistress J is all about multi-tasking. So any devices that can help her do two things at once, or sit back and enjoy a show are always welcomed.
Recently, Texas Tim gifted me with the Liberator Wanda Magic Toy Mount, The Wand Essentials Strap Cap and the Wand Essentials Passion Pillow Wand Harness from Amazon. We had fun with the Liberator during our session.
Texas Tim has become a huge ass slut and I was determined to break in my new toys. Using the strap cap, I attached a nice sized dildo to my Lelo Cordless Wand.
Now I was ready to have some fun. At the appropriate time, the Texas slut presented his ass to me and I used the wand on him. The girth and curvature of the dong allowed me to keep it vibrating in his ass hands free and allowed me to prepare other delights, such as my strap on.
After pounding him with my strap on cocks, I decided he needed to entertain me. After all, he's here for MY amusement, not the other way around.
He was instructed to straddle the Liberator complete with ass wand and ride it, Tim willingly complied.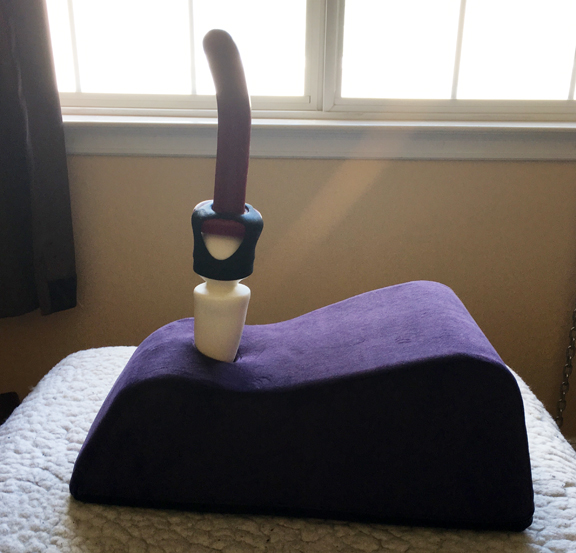 He squatted over the Liberator and his hole slowly swallowed the purple dildo. The firm foam allowed Tim to gyrate to his specifications, becoming an enabler of his pleasure.
I sat on the couch and watched.
I pointed the wand this way and that, alternating his positions as he sat this way and that.
I think he enjoyed it best when he straddled it while facing the smaller side of the pillow. His ass and his legs got a bit of a workout! Later, he told me he really enjoyed the Liberator and it might have been his favorite thing that day.
Next time, I will use the Liberator with my Hitachi Wand with P-Spot adapter on him and see how well that is received. I also have the sex stool, which in combination to the above could relieve leg fatigue. Hmmmm….
The Liberator can be used for a woman's pleasure too. In fact, I think that was the original intent, but Miss J is a naughty thing.
Mistress J's Desire:
I have the desire to restrain a slut and force him to watch me pleasure myself with my Lelo. I'll be comfortable perched on the Liberator and can ride it how I see fit. Ah, the agony!
Here is a caveat. Please DO NOT ask (or beg) for this particular scenario. It is for me to decide if and when I want to do it. If you ask, it will not happen. No exceptions, not even hints or references.
If it happens, it will be a surprise.
As usual, I invite you to contact me for a session in my San Jose studio.
Intrigued? Contact me.
Mistress J Studios is a sex positive studio that provides a safe place for personal expression. Nude male photography, male and female submission, cross dressing and gender bending are welcomed and encouraged here.
My email is mistressjstudios@gmail.com. I am in San Jose, California. I look forward to hearing from you.