Here's to 2018!
I don't know about you, but I am glad to have a new year on the books.
Lots of fun things will take place over here at Mistress J's. The biggest news is I will be redecorating my house and play space! That includes new paint and flooring, and maybe one or two new pieces of furniture. I am so excited for this makeover.
Speaking of makeovers, many people use a new year to try new things, get a new hair style, and kick old habits to the curb. I have a fabulous idea! How about if I help you with a NEW habit; a Kinky New You for 2018? After all, Mistress J is a giver, and her business is all about pleasure. Sounds like she's the right person to help you get your kink on, or maybe I should say get the kinks out. ha ha
Bondage: Have you ever wanted to feel helpless in a controlled way?
I have some shiny, bright handcuffs. We can play a game of cops and robbers. I will be the cop of course, while you get a strip and cavity search! Are you hiding something? Perhaps I need to dig pretty deep.
My St. Andrews Cross intrigues many people. Imaging being spread
armed and eagled with no way to dismount. I could do WHATEVER I wanted to you. Oh the horror!
I could tickle you, spank you, tease your junk and do it with you blindfolded. I have lots of toys and tools, and you are just an object for my desire and imagination… Poor baby,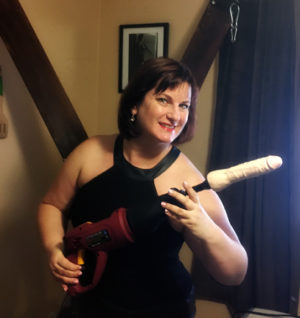 Anal Play: For many men, their deepest and darkest desires are to be pegged, I like to make a man spread his ass cheeks and become my Bend Over Boyfriend!
I have a fine selection of dongs ranging from small to destroyer. And don't forget, I am the proud owner of a Drill-Do! Your New Year's Resolution could be to take it for a spin!
Femminization: Perhaps you have always had a fantasy of femminization? Well, I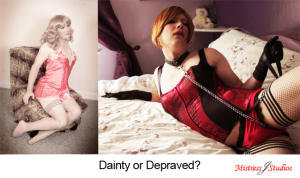 have a selection of wigs, jewelry, shoes and clothing to bring out the lady in you. You can be naughty or nice. I like it all! And you will too.
Whatever you desire, I am sure we can make it happen here at my studio. I do have a few hard limits: No scat, blood, diaper or age play. I also don't wrestle, smoke anything, and will not see an inebriated guest.
Intrigued? Contact me.
Mistress J Studios is a sex positive studio that provides a safe place for personal expression. Nude male photography, male and female submission, cross dressing and gender bending are welcomed and encouraged here.
My email is mistressjstudios@gmail.com. I am in San Jose, California. I look forward to hearing from you.