Do you think the female foot is sexy?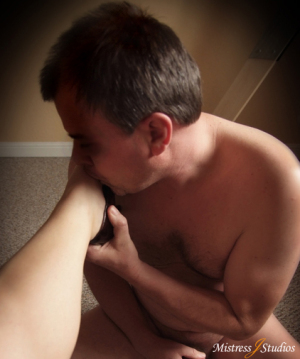 Do you have naughty thoughts about caressing the high arch of a delicate foot, licking perfectly pedicured  toes or perhaps being trampled by a sharp stiletto?
If so, you are not alone. Of all the fetishes, perhaps the one that is most well-known and recognized is that of the foot fetish. Men and women alike by the millions admit to having some type of foot fetish and in the world of BDSM the foot fetish plays an integral role in many D/s relationships.  Many men I know have a huge desire to smell, lick, touch, taste, see, suck, female feet.
The foot fetish can cover a wide range of likes and lusts on the part of a submissive. There are some who may have an interest in a particular style or type of shoe being worn while others may focus on the foot itself. Some submissives have a fetish for well-manicured toes while others may like certain socks, stockings, pantyhose or thigh highs that encase the legs and feet. Still others may love the smell of a well-worn shoe, sock, stocking or just the smell of the foot itself. Each submissive who has a foot fetish may have a particular twist on the fetish itself that they enjoy the most.
I'd like to know what yours is…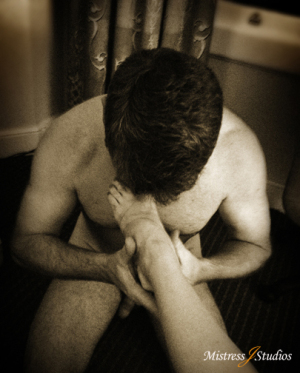 The way to this Mistress's heart is through a foot massage. Personally, I could have my feet massaged for days. I love the way my cute size 7 feet feel in the warm palm of a man's strong hand. Add a little oil and I am in heaven! My pedicured toes,smooth/soft soles and high arch on my feet is sexually arousing to some. My lover enjoys having one of my arches on his cheek during intimate moments.
Perhaps there's a sexual attraction to feet because, feet are sometimes hidden as are other body parts. And when seeing just the curvy shape under a woman'e socks, one might feel curious, and wonder what they look like.
At home, I like to walk around barefoot. In a session, I start off in my sexy heels, and at some point, my shoes come off. I enjoy running my foot down the length of a man. If he is a true foot fetishist, we are a good match.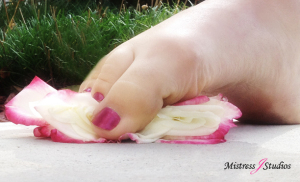 I love seeing a man kissing my feet or caressing it. I love using my toes in interesting ways on the body. My toes enjoy grabbing things, squishing things and curling around things. Since I am a fan of chest hair, my toes crave being buried in a thick carpet of male chest hair.
I also enjoy trampling! Lay on your back while I step on you. How about a little CBT with toes? Do you prefer shoes? That's fun too. Let me dig my pointy heels into interesting places. It will only hurt if you want it to!
If you are curious about foot worship and Feminine Domination, I invite you to contact me for a session in my San Jose studio.
Mistress J Studios is a sex positive studio that provides a safe place for personal expression. Nude male photography, male and female submission, cross dressing and gender bending are welcomed and encouraged here.
Intrigued? Contact me. My email is Mistressjstudios@gmail.com.  I am in San Jose, California.  I look forward to hearing from you. 408-896-5836.