"In almost all of us there is the secret woman who does not appear for her friends and acquaintances, perhaps not even for the man she marries…"
-The Secret Woman by Victoria Holt
That is a line from one of my favorite books from when I was a teen. My mom always had Gothic romances around the house and this book was a particular favorite.
Like the book, many people often have a secret side to themselves that they feel they need to hide. My clients are certainly no exception! The cross dressing male often hides his tendencies from his family and friends, not to mention society.  But this makes me wonder if there are gurls who hide their "darker" feminine form even from themselves?
For that matter, how many people really do give themselves permission to embrace their slutty side? I could ask this even of myself. Do I prefer to dish it out because it is harder for me to take it? Excellent question! I think that answer would take many blog posts, so I will use my experience with this lovely model for the meat of this post.
"Brittany" agreed to be my model on a lovely Sunday afternoon. In real life, Brittany is a well respected software engineer living the California dream. He works for a large company, has a fabulous girlfriend and lives in a swanky bachelor pad. Brittany is punctual, responsible, clean cut, respectable, polite and a little shy at first.
I knew Brittany had the desire to wear women's clothing and had never had a professional makeover and photo shoot, which made a good candidate to turn him into her.  I also knew Brittany was pretty open minded and willing to try almost everything once.
I didn't know Brittany was a little whore…
I thought my makeover would consist of two hair and outfit changes, both being rather refined and elegant. Most of my clients like my lady like make overs. I am inspired by the silver screen sirens of the Hollywood Golden Age, and feel gloves, furs, and jewelry are a girl's best friend.
Don't get me wrong, Brittany liked her peach ensemble and mink wrap. Her blond hair and  understated makeup matched her peaches and cream complexion. I fell in  love with her long sexy legs and spankable ass and wanted to show them off  to perfection.
What was interesting, was the difference between dainty Brittany and slutty Brittany. Dainty Brittany was reserved and quiet. When I changed her outfit and put on the short and sassy red wig the transformation was complete.
Brittany likes being slutty.  She craves it. She admitted while she liked the peach ensemble, she felt the red outfit was really more her, and allowed greater flexibility to express what she was feeling that day.
And she wanted to feel a big dick between her legs…
Brittany likes pretty things, but she is a little vain and knows she has a nice figure. She isn't against using her feminine whiles to get what she wants. What she wants and needs most is attention, particularly lust. Brittany is a submissive girl and likes to be used and degraded. I think it's because she doesn't get that in her professional life.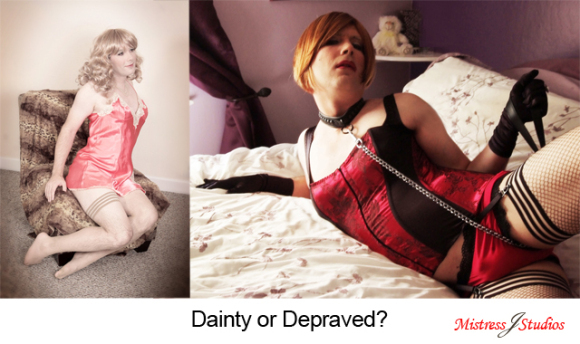 During the shoot, I asked her what appealed to her about cross dressing. She said she likes to act and be someone different. Being female and acting the part is a big role to play, and one she enjoys.
When my model is comfortable it makes for a great session. I am glad Brittany knew she was a dirty whore and was willing to show that side to me.
I enjoyed this session because it shows two extremes of one personality. Every woman and every man have different faces to show. I am proud to provide a nurturing place for self expression. I'd love it if more gals were as uninhibited as Brittany!
If you are curious about feminization, cross dressing and sissification or Feminine Domination, I invite you to visit me for a session or photo shoot in my San Jose studio.
Mistress J Studios is a sex positive studio that provides a safe place for personal expression. Nude male photography, male and female submission, cross dressing and gender bending are welcomed and encouraged here.
Intrigued? Contact me. My email is Mistressjstudios@gmail.com.  I am in San Jose, California.  I look forward to hearing from you. 408-896-5836.
The red corset and Kixie thigh highs can be found at Curvy Girl Lingerie in San Jose, California.