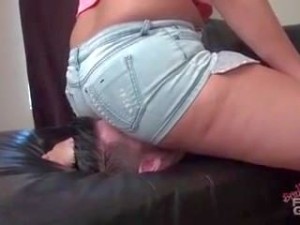 You lay on your back as I ordered, in anticipation of what is to come. Your cock is standing at attention and dripping pre-cum. It rolls down to your balls and drips on my floor. You are making a mess and will pay dearly for that.
Your hands wait patiently at your side. I crouch down over your face, giving you a lovely view of my womanhood and ass. I hover there, my strong legs able to stay in that position as long as I need to. You can smell me. You ache to taste me. But not yet.
I turn my body so I am facing your cock. I want to watch you play with yourself as I smother you. The nipple clamps go on and your body tenses for a moment with pain and pleasure.
I straddle your face again and ease myself onto your eager open mouth. You are engulfed by my womanly scent and juices. You can't breathe, and I order you to please me with your tongue. You oblige and your past training has conditioned you to hold your breath for long periods of time.
Eagerly you lap up my juices and lick my wet pussy. I order you to fuck me with your tongue and I ride it like a pony. Your hands ache to do something, but I am not ready for that. I pull those clamps because it amuses me. I see your body start to twitch. I know you need a breath, but I delight in your discomfort. You are wiggling. I ease my hindquarters up a bit and you get a quick, delicious breath. Then I settle back down.
After a while you are allowed to touch yourself. You are a little dirty slut and you fondle your hard, dripping cock with pleasure. I order you to lick my ass. You oblige and I reward you with another pull on those clamps. You're able to last a little longer this time, delighting in my scent and being consumed by my feminine power. You are very good at what you do, and I roll across your face.
This goes on and on. I ease up only when I feel you should breathe, I pull the clamps, I scratch your chest and you rub your cock. You are thrusting from pleasure, from needing air and because you are close to exploding. But not yet.
I make you lick my pussy and ass until I cum all over your face. NOW you are allowed to cum, but you must do it as I pull those clamps. I am still smothering you, only allowing your breath when absolutely necessary.
I see you nearing climax. I pull harder and you shoot that hot, white cum onto your chest. I slide off your face and order you to wipe it up with your hand. You do so, and I have you suck your dirty fingers with that mouth that pleasured me so.
Such a good boy.
Mistress J Studios is a sex positive studio that provides a safe place for personal expression. Nude male photography, male and female submission, cross dressing and gender bending are welcomed and encouraged here.
 My email is mistressjstudios@gmail.com.  I am in San Jose, California.  I look forward to hearing from you.
408-896-5836.