Like raindrops on roses and whiskers on kittens, Mistress J has a few favorite things she enjoys using on her clients.
I will describe them in no particular order. During a session, you might have the honor of experiencing one, or ALL of these items!
Remember, during a session you belong to me and you are my plaything. I get to tease & torment your body!
My longtime favorites are my claws. Sharp, but not too sharp, these steel beauties can be used hard or soft, and even in the most delicate of places! I particularly enjoy teasing the navel with these. And since they are stainless steel they are super easy to sanitize.
One of my first toys I purchased for myself was my Hitachi Magic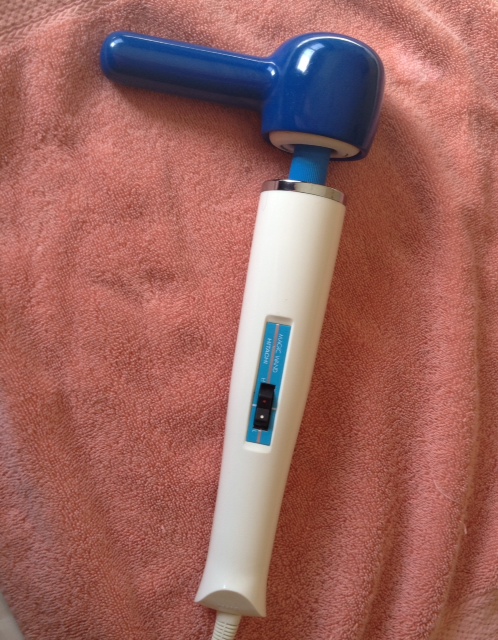 Wand. The wand is a favorite among women because it gets the job done very quickly. It requires an electrical outlet and no battery operated toy equals its strength! When I ordered it, I also purchased the G-spot and P-spot adapters. Here, my Hitachi sports the P-spot adapter. I lovingly call this the Slut Machine, as it turns my clients into very willing sluts. Take a turn on the Slut Machine and let me know if you prefer the fast or slow speed.
Another favorite is the Blue Surprise. The Billy by Lelo is ergonomically designed for anal play. This little guy hits all the right places and the vibration and various pulses are sure to please. My favorite sessions involve using both toys. FYI, all insertables are condom covered for  your protection.
The newest addition to the family is my beautiful Towel Warmer!
All I can say is why didn't I buy one sooner???? A hot towel feels great after a Bondassage® session or massage. Sometimes, when I am home, I take one out and simply enjoy the hot towel on my hands. I love it, and my clients do too. I invite you to try a session and experience a nice, hot towel.
If you are curious about Feminine Domination, I invite you to contact me for a session in my San Jose studio. I offer Bondassage ®, Elysium® various domination sessions, FBSM as well as erotic photography and sissy transformations.
Mistress J Studios is a sex positive studio that provides a safe place for personal expression. Nude male photography, male and female submission, cross dressing and gender bending are welcomed and encouraged here.
Intrigued? Contact me. My email is Mistressjstudios@gmail.com.  I am in San Jose, California.  I look forward to hearing from you.
408-896-5836.