My favorite Frenchman Emile, came for another visit and was ready to rumble. I don't see him often, as he lives in France, but when I do, things get nasty.
Emile was horny and needed to be fu**ed. He also had a penchant for lacy underwear and being treated like a sex object, so I turned him into Nana, the namesake of a story written by another famous Frenchie named Emile.
Nana was dressed in her finest fishnets, along with the appropriate streetwear. I handed her a purse and she stood in the corner waiting for a passerby. Soon, Mistress J strolled by and was propositioned by Nana. Nana's offer was too good to pass up, so we wandered over to the other side of the room.
I handed her a 1 Euro coin, left over from when I visited Europe and told her I bought her cheaply, and she needed to do everything I asked. She agreed, and put the coin in her purse.
This little whore was made to do what she does best, suck dick. I placed her in front of my wall of cocks and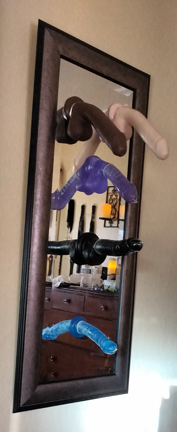 instructed her to show off her skills. She had to please those rubber dicks and if I saw her neglecting one, I'd shove her throat deep on the neglected cock, making her gag. The bitch gave several sloppy and loud BJs. I think these were very satisfied cocks. During the blowjobs, I told her to buy something with that Euro, like an ice cream and to think of me while she ate it. She drooled in compliance.
I got so turned on watching her satisfy these cocks, I had to have my way with her. I've seen this girl before and knew that her boy pussy was rather tight. Last time, I was not able to get my cock in her, but was determined to this time. She dropped her panties and bent over. I toyed with her pussy first with a gloved finger, then moved up to bigger and better things. When I felt she was ready, I slid my dick into her and when I made it in, I yelled "Viva La France!"
I finally got my money's worth from this harlot. We were both amazed and satisfied. And, like a true French whore, she smoked a cigarette after sex.
Does this article turn you on? I can incorporate your heritage into a scene, and am always up for learning a few naughty phrases in your native language. Send me an email if you are interested?
Intrigued? Contact me.
Mistress J Studios is a sex positive studio that provides a safe place for personal expression. Nude male photography, male and female submission, cross dressing and gender exploration are welcomed and encouraged here.
My email is mistressjstudios@gmail.com. I am in San Jose, California. I look forward to hearing from you.