One thing this pandemic has had me do is to look for ways to spend money. I've discovered Etsy has some excellent and high quality dungeon furniture handmade by talented fellow perverts worldwide.
Since August is Anal Pleasure Month, I am featuring my new equipment that gives access to the goods.
The first is my breeding yoke from Percontator in the Ukraine. As you lay on your back, your hands and neck are in the device. Your feet are held back by chains, giving me total access. I actually got a little wet seeing this and knew instantly, I had to have one.
See how my friend's ass is exposed and he has no choice but to take what I give him? This guy is a huge butt slut, so he is about to experience the dildo I named the Jumbo-tron, it's my biggest dick.
What I love about this is, my guest's legs are supported backward and there is no straining on them. I won't hear about tired legs as I fuck your ass or force your cum out of your body. I get to take what I want, how I want, and for as long as I want!
Since this is a yoke for breeding, expect to feel like a piece of meat. Your body is mine to use. You might be mildly uncomfortable in this device. But that is the point, you're a sex slave, and you like it. Slut.
This photo shows how the wrists are positioned facing each other. The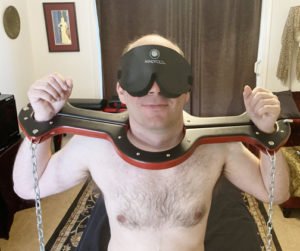 opening is oval shaped and should accommodate most male wrists. I do want to note, if you have wrist injuries, a protruding bone or have EXTREMELY large wrists for whatever reason, this might not be for you. But don't worry, I have other ways to make you feel like a helpless little bitch.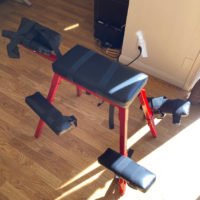 Speaking of helpless bitches, I LOOOOOOOVE my spanking bench from DungeonDelights in Indiana. I have to admit, it is rarely used for spanking. heh, heh. Built for comfort and my accessibility, this has quickly become a fan favorite.
See how open and ready my guest is, as he settles on the padded leatherette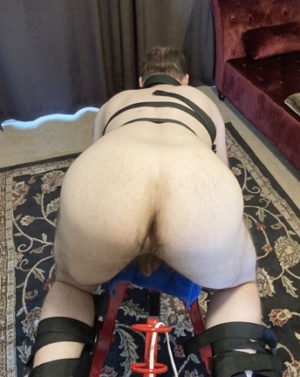 platforms. The face-rest, leg and armrests are adjustable. If I have a squirmy sub, I can strap him in. I don't want him going anywhere!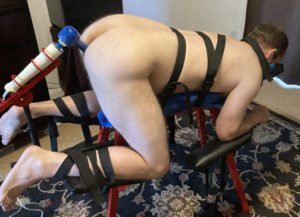 I figured out how to assemble the two hands free attachments. This photo shows my friend enjoying the Hitachi with prostate attachment. My hands were free to take photos, and my friend was strapped in and enjoying the ride. Since I am hands free, whatever shall I do…?
The other attachment is for a dildo. So, if I have a guest with a vag, I can easily do double penetration.
This last item has nothing to do with anal play, especially since it is purely decorative. I simply
could not resist this fruit bowl from SINDstudio in Tel Aviv. The penis bowl is a perfect addition to the playroom, and I filled it with beautiful silk flowers.
One should stop and smell the roses, don't you think? I hope you noticed the two fuzzy balls. Yes, they are there deliberately.
I hope you will take some time to smell the roses here at Mistress J Studios. I think we can find a way to kill some time.
Intrigued? Contact me.
Mistress J Studios is a sex positive studio that provides a safe place for personal expression. Nude male photography, male and female submission, cross dressing and gender exploration are welcomed and encouraged here.
My email is mistressjstudios@gmail.com. I am in San Jose, California. I look forward to hearing from you.